In Loving Memory of Church Family Members and Friends
now at Home with their Lord and Saviour
Now with Christ, which is far better (Philippians 1:23)
---
In Loving Memory of Audrey Green
We missed Audrey's presence with us in the chapel for quite a while
as she was in a care home and unable to join with us.
A former missionary, with her husband,
she was an occasional visitor who later came into full membership.

The funeral of Audrey was held on Monday 8th June 2020.
As with Pam, numbers able to attend were limited due to the Corona virus lockdown.

---
In Loving Memory of Pam Stephens
Beloved wife of Roy, Pam was called home on 19th May 2020
Pam was always ready with a smile and a kindword.
Her love for her Lord and Saviour Jesus Christ was evident in all she did.
She enjoyed to visit in the village door-to-door when able.
The funeral of Pam was on Friday 29th May 2020.
Numbers able to attend were limited due to the Corona virus lockdown.

---
In Loving Memory of Sheila Webb
The funeral of Sheila took place on Wednesday 29th January 2020 at the church.
It was a fitting farewell to one who was much loved by friends and family.
We thank all who made arrangements for the day
and we continue to remember Sheila's family in prayer.
Sheila and her husband Tony (an elder) worked tirelessly in our church.
They always provided the warmest of welcomes
and often offered hospitality to visitors and members alike.
Sheila produced our weekly newsletter for many years.
She was always looking for ways in which it could be improved.
We miss her and Tony very much.
---
In Loving Memory of Sue Fenwick
A thanksgiving service for the life of Sue Fenwick
was held at St Alban's Church, Charminster
on Saturday 2nd November 2019 at 2.00 pm.
Sue was a greatly loved and esteemed member of our church,
always willing to help and serve with any project if she could.
We remember Sue's husband Rob in our prayers; he misses her very much.
---
In Loving Memory of Edie Orman
Our hearts go out to Ken Orman and the family following the home call
of his dear wife, and our sister and friend, Edie,
in the early hours of Sunday 11th August 2019.
Edie has served her Lord and Saviour from the earliest days of our chapel.
Since suffering a serious stroke some years ago
she has continued to be an inspiration and blessing to us.
We are sure that her prayers have sustained the church and many beyond.
A thanksgiving service was held at our chapel
on Friday 30th August 2019.
This was followed by the burial for family & close friends in West Moors
and refreshments back at the chapel.

---
In Loving Memory of Rob McNaught
Our hearts also go out to Margaret and their family
on the loss of Rob on Monday 12th August 2019.
Rob was a kind, well respected man and much loved by all who knew him.
In God's providence, Rob died at home, which was his desire, shortly after returning from hospital.
There was a service at Poole Crematorium at 10.30 am
on Wednesday 28th August to celebrate Rob's life.
Many good friends, especially from Rob's army days, attended the funeral
and shared fond memories with Margaret and family afterwards.

---
In Loving Memory of Keith Duffett
We are sad to report the Home call, on Sunday 30th June 2019, of our dear friend Keith.
He was a much loved and long-standing member of our church,
who walked with his Lord faithfully for many years.
We have missed his presence with us very much during his recent illness
and send our sincere condolences to his wife Renee
and the whole family at this time of sad loss.
---
In Loving Memory of Jennie Grace
Although she lived and served the Lord in India
we counted Jennie Grace Prabakhar as a close friend of the church.
She passed into her Lord's presence on 1st May 2019.
She was Superintendent of Hebron Hostel for many years
(following the retirement of our own Joyce Harding - see below).
Our prayers are with her family and friends.

---
In Loving Memory of Winnie White
We were sad to report that Winnie White,
who had been in our thoughts and prayers for some time,
passed into her Lord's presence on Tuesday 8th January 2019.
We prayerfully remember her family and send them our sincere condolences.

---
In Loving Memory of John Harris
John Harris, a good friend of the church who moved to the North of England
in about 2002, passed away on Saturday 12th January 2019.
We send our condolences to his family and friends.

---
In Loving Memory of
Mrs. Emma Georgina Mary Rowdon
8th July 1920 - 4th February 2018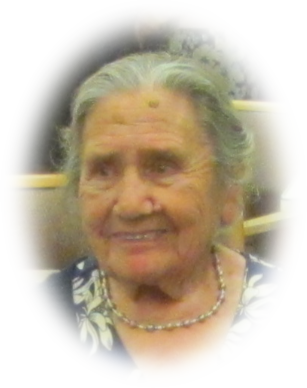 We were very sad to report that our most loved Georgina,
was taken home to be with her Lord,
whom she served faithfully throughout her long life.
Georgina's funeral was on Friday 23 February 2018,
with a Thanksgiving Service at 2.00 pm at the church.
Hymns sung at the Service of Thanksgiving were
'Amazing Grace', 'The Lord's my Shepherd',
'Great is Thy Faithfulness' and 'In Christ Alone'.
---
In Loving Memory of (Amelia) Ruth Bussey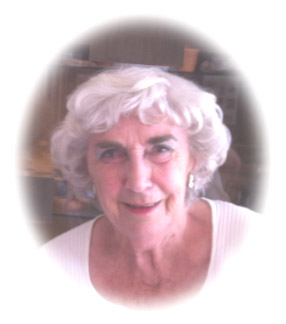 The Thanksgiving Service for Ruth will be held at
Verwood Methodist Church on
Thursday 18th January at 11.00 am
Afterwards refreshments will be served at
Verwood Memorial Hall
-
We miss Ruth very much. In recent years Ruth has regularly met with us
on Sunday mornings and evenings, always supporting our special events
and often coming to our Tuesday Bible Study and Prayer Meetings.
She always had a ready smile and was very humble. You would not know
what a great contribution she has made to the local community over so many years.
Her husband was the minister of Verwood Methodist Church in the 1960s,
where they both served faithfully and are lovingly remembered.
For further details, please see the page on the Mags4dorset website.

---
In Loving Memory of Esther Sirra (Hebron Hostel, India)

We were so sorry to hear of the passing of Esther Sirra to be with her Lord
We send our heart felt commiserations to all at the Hostel and her family and friends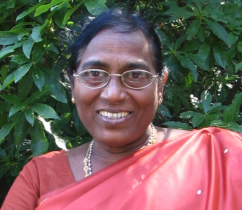 Esther Sirra
Gayl Spieringshoek was appointed to continue from Esther but could not obtain permit.
---
In Loving Memory of STAN ORMAN (brother of Ken Orman of our chapel)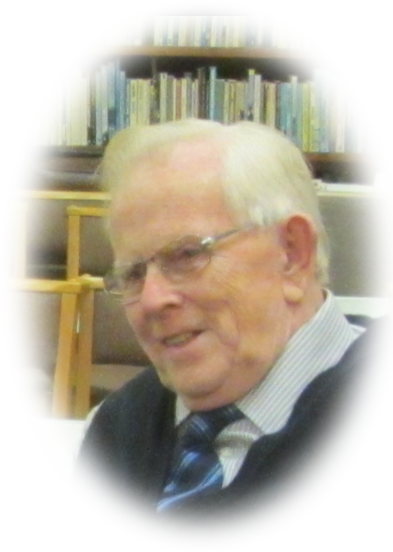 On Sunday morning, 27th August 2017 Stan Orman,
on his way to the morning service at Pinehurst Community Church,
collapsed and was almost immediately taken into the presence of the Lord.
A tremendous shock to all and a great loss to family, friends and the Church.
There was a Thanksgiving Service on
Friday 8th September at Pinehurst Community Church.
Stan was a founder member of the Church at Pinehurst
and worked tirelessly all his life for the work there,
he was a founder member of the Dorset Counties Trust,
Secretary of the Counties Regional Fellowship for many years
and for so many, a great friend .
Please do remember his wife Vera, and the extended family in your prayers.
(This sad news & tribute are based on an email written to friends by Stephen Gillham)

---
In Loving Memory of Mary Freeborn
Mary was always a bright and friendly soul who will be very much missed by our fellowship.
She passed away on the evening of Monday 25th August 2014
Her funeral was on Monday 8th September - We extend our commiserations to her family and friends.
---
In Loving Memory of Jean Jones
A service of thanksgiving was held on Tuesday 29th April 2014
We miss Jean very much, but she is now with her Lord and Saviour
---
Audrey Jeanes, a good friend of the chapel.
There was a service on Friday 24th May 2013
at the local United Reformed Church where she was a member.
---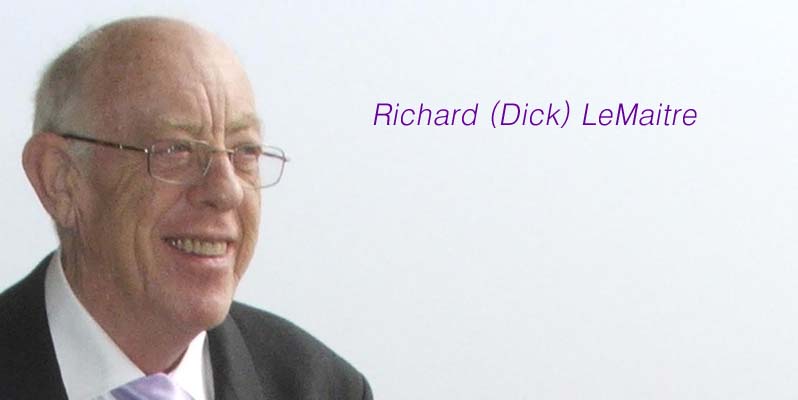 Our Dear Friend and Elder of the Chapel was called home to be with his Lord
on Saturday 9th March 2013 - we shall miss him very much
Dick was buried at Hinton Park Woodland Burial Ground
at 12.30 pm on Tuesday 26th March 2013
A Thanksgiving Service followed at 2.30 pm in our Chapel.
Our Pastor Jeremy Andrews presided over both services and there were contributions as follows:
Malcolm Smith and Ken Orman led in prayer.
Glynne Hampson spoke in appreciation of Dick's earlier years at New Milton Evangelical Free Church,
followed by Peter Hallsworth who spoke of the last ten years,
during which we at Verwood Road have had the priviledge of his friendship and fellowship.
Oliver Gross brought us a message from God's Word, with a reading of Job chapter 14.
Oliver answered the question in Job 14 v 14 - If a man dies, shall he live again? with a definite Yes
and then went on to explain how we can know that Dick is alive in heaven now.

At the beginning of this year Dick chose the following scripture for remembrance by all in the chapel:
A new commandment I give you: Love one another as I have loved you (John 13v34)
You might be interested to visit the web site of Grace to You -
the preaching and books of John MacArthur were a great blessing to Dick

---
Our dear friend Ernie Perfitt went to be with his Lord
early on Thursday morning 8th November 2012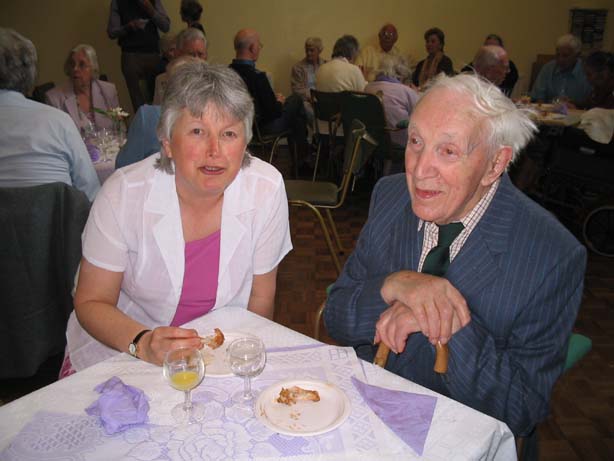 This photograph was taken in May 2006 at one of our church events.
We remember Ernie with great affection, it was a real blessing to have known him.
We remember Mike, Hilary and Janet in our prayers.
Ernie's funeral was at Colehill Woodlands Cemetry, 19th November 2012
---
Mrs Doris Combes
The picture below shows Mrs Doris Combes and her son John, taken on Christmas Day 2011.
Doris and her late husband were faithful members of the church for many years, although unable to attend for some time now.
Since the photograph was taken she has gone to be with her Lord.
Our thoughts and prayers are with all her family.
The funeral was on Friday 20th January at 10.45 am at Bournemouth Crematorium
with a Thanksgiving Service at our chapel in the afternoon.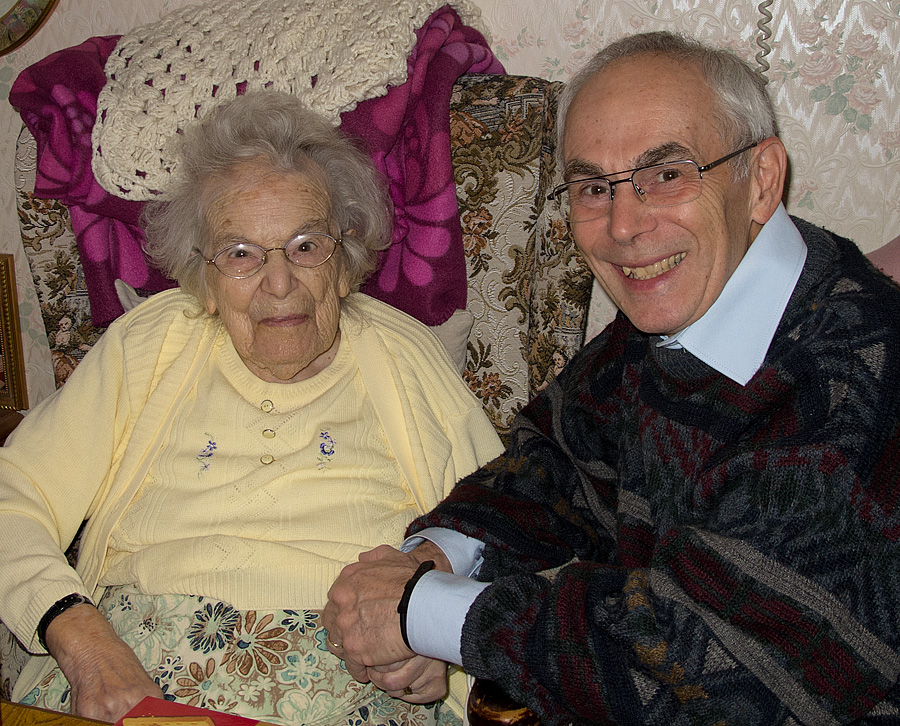 ---
28 January 1922 to 16th October 2011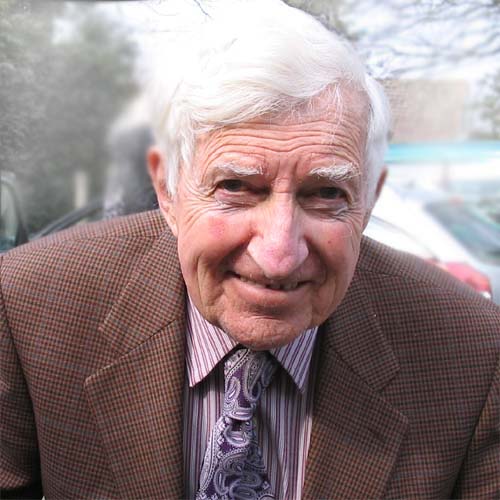 With Christ which is far better


The funeral of our dear friend was on

Monday 24th October 2011.
Our Church was full with those wanting to join in thanksgiving for Frank.
We continue to remember Georgina and their family in our prayers.

---
We extend our love and condolences to all at
Holland Wharf Girls' Hostel near Narsapur, South India
following the home call of Joy Tilsley in 2011.

---
Our dear friend Victor Myson passed away on Tuesday 8th March 2011.
Victor was 98 years of age and for the past few years had been a very regular visitor to our Sunday morning services.
These were a great joy to him and he was always sad if not able to come. We shall miss him very much.
---
In Memory of Joyce Harding:


Our beloved Miss Joyce Harding was called home to be forever with her Saviour and Lord,
on the morning of Thursday 25th February 2010.
Thanksgiving Services were held at our Chapel on Monday 8th March and in India on Tuesday 9th March.

Jennie Grace has sent us a lovely description of the Memorial Service held at Hebron Hostel:
REPORT OF AMMA HARDING MEMORIAL SERVICE
Cathy Gilmore has produced a excellent tribute to Joyce which can be viewed and printed:
ELSIE JOYCE HARDING
3/2/1917 - 25/2/2010

---